This look awesome! From the Paleo Leap website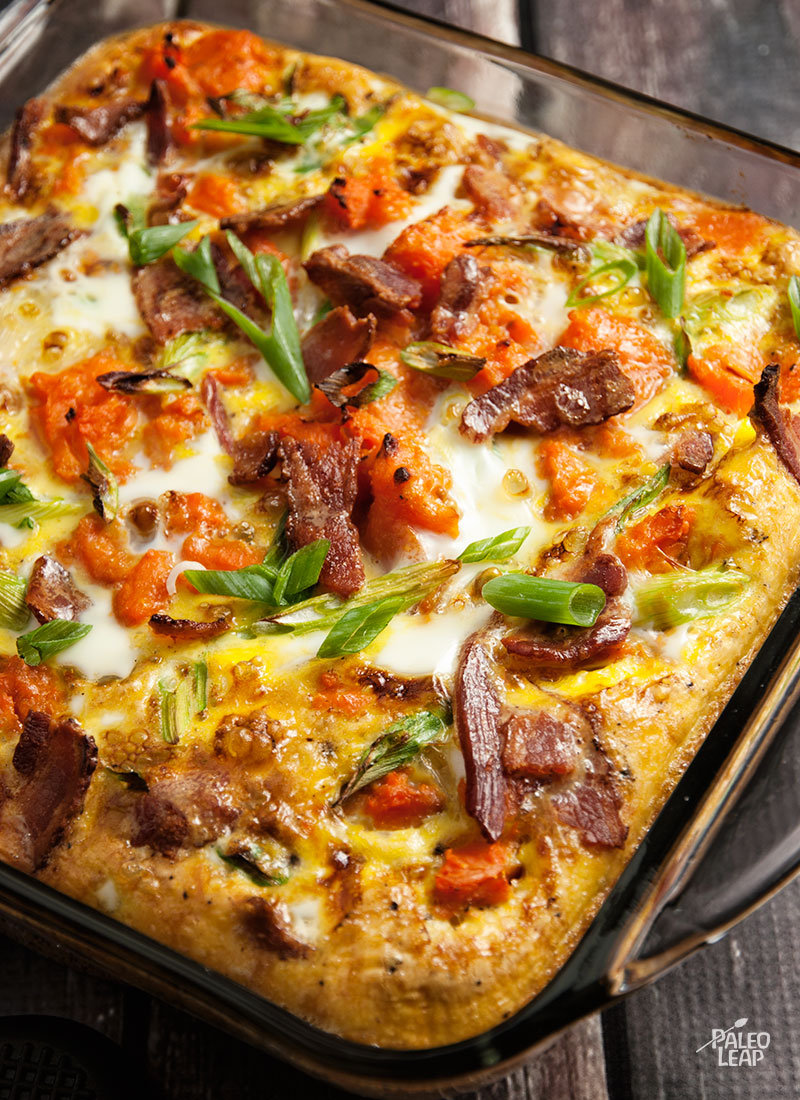 Microwaves might be convenient, but oven-baked sweet potatoes get a mouthwatering caramelized sweetness that the microwave just can't seem to replicate – it's good enough to be worth the extra time, especially if you're making a recipe like this that will give you several days' worth of breakfasts in one.
Here, you first bake the sweet potatoes in the oven to get that savory-sweet flavor, and then use them as a base layer for a big pan of baked eggs and vegetables. It's like a frittata in rectangular form, perfect for baking double or triple and storing in the fridge for quick meals on the run. Thanks to the sweet potatoes, it would be especially good as a portable breakfast for getting some healthy carbs into you after a workout.
Even if you don't have anywhere to be in a hurry, though, this is still a convenient way to whip up a Paleo-friendly breakfast (or lunch, or dinner!). And if you're not eating on your way from the gym to the office, you can even fry up a batch of cauliflower hash to go with it!
Twice Baked Sweet Potatoes With Eggs Recipe

SERVES: 4

PREP: 15 min.

COOK: 1 h. 15 min.
Ingredients
4 to 5 sweet potatoes, peeled;
3/4 lb. bacon, cooked and cut into chunks;
8 eggs;
3 green onions, sliced
1 tsp. garlic powder;
2 tbsp. olive oil;
Sea salt and freshly ground black pepper;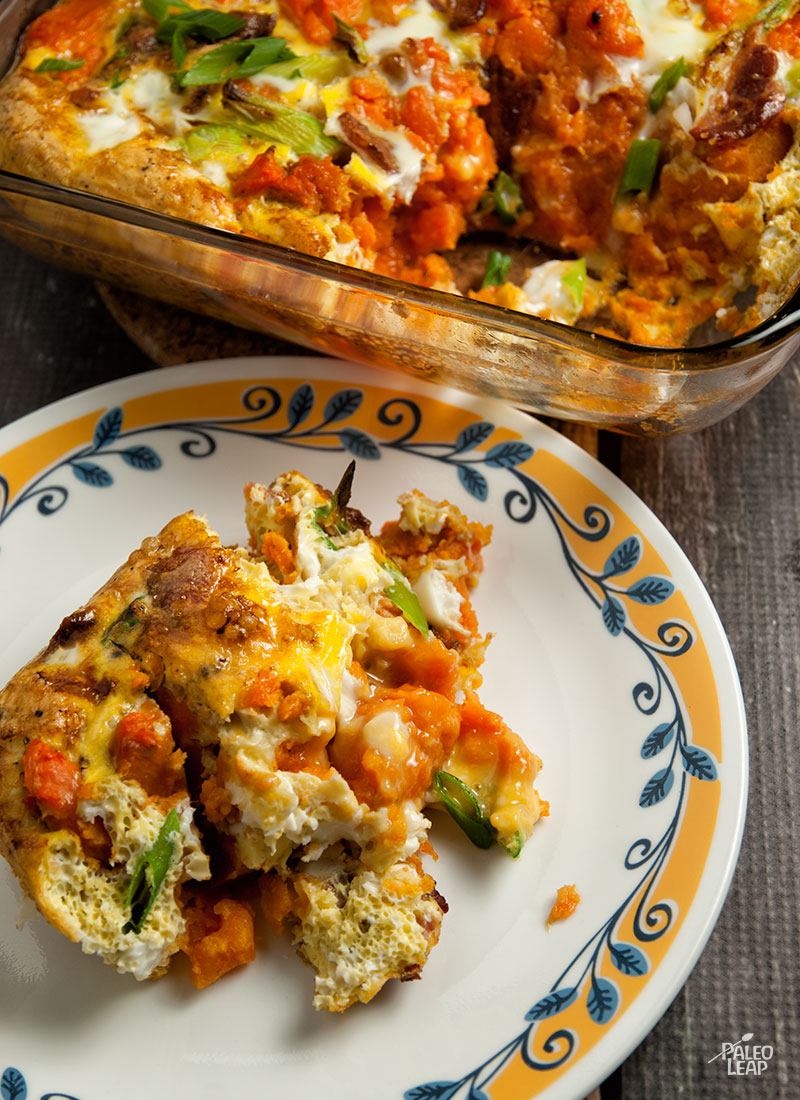 Preparation
Preheat your oven to 400 F.
Wrap each sweet potato in aluminum foil and place on a baking sheet.
Bake in the preheated oven for 40 to 45 min, or until soft.
Remove the sweet potatoes from the foil and let cool until safe to handle.
Lower the oven heat to 350 F.
Cut potatoes into pieces and place in a bowl. Drizzle with olive oil, season to taste, and toss everything together: the sweet potatoes will fall apart, but that's normal.
Place the mixture in a baking dish.
Scatter half the bacon and half the green onions on top of everything.
In a separate bowl, beat the eggs and season to taste.
Pour the beaten eggs on top of the sweet potato mixture and top with the remaining green onions and bacon.
Place in the oven and bake for 30 to 35 minutes, or until the eggs are set.